---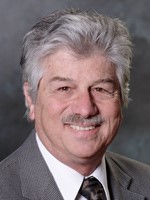 From Bill's colleagues and friends:

Dr. Bill Holley will be missed by all of us in the US and IEC standards community, the Wind Turbine community, and the ARESCA Board. He brought energy to our causes and kept us true to our principals by challenging us always to do the right thing. As a founding member of ARESCA, he provided guidance to us in navigating potential pitfalls in forming the organization and ensuring we followed all the needed protocols both written and implied. He never failed to surprise us with his deep understanding of issues and always had the courage to speak up and provide direction.

Sincerely,

Dan Brake, ARESCA President
Bob Sherwin, ARESCA Board Chair




Paul Veers:
It is with great sadness that I am passing along the news that our colleague and long-time friend of MT1, William E. Holley, has passed away on October 5, 2017. It really breaks my heart to lose such a great colleague and I am sure those of you who have had the chance to get to know him well might be feeling the same. Bill was a true pioneer of our industry and a gentleman.

Sandy Butterfield:
The passing of Bill Holley marks the loss of a legend in the wind industry. I first met Bill when he was a professor of controls at Oregon State University with Bob Thresher and Bob Wilson in 1979. Bill's technical expertise always put him at the front of the meeting room, the type of guy that everyone listened to when he began to speak because they knew they would learn something. He raised the bar for the wind industry when he brought his professorial controls knowledge to bear on this ever more complex technology right at a time when new turbine features such as pitchable blades and variable speed generators needed advanced control strategies. Bill had the right gifts and was able to give them to the wind industry. He was one of three authors of Kenetech's famous variable speed patents. This innovation changed the wind industry and will always be marked as a game changing innovation that contributed mightily to the industry's success. He played a key role in international standards too. Significant parts of the original text in the primary IEC design requirements standard came from Bill. He was a prolific technical contributor. When Kenetech went into bankruptcy he continued to consult and make contributions on challenging research topics that ultimately helped mature stochastic design methods now in common use. Beyond his technical knowledge though he committed to the wind industry's success. He was duty bound. He recognized the need for leadership in the standards work and stepped up, as others have described in their testimonials about his IEC standards leadership. Bill's presence will be missed whenever technical experts gather and whenever future students of wind turbine design ask how the design process came about. Bill's voice will come back through the text of his works.

Nomination for the IEC 1906 Award:
Bill was one of the top wind energy technical experts in the world. His contributions date back to 80s when he was a professor teaching controls at Oregon State University specializing in wind energy. He joined Kenetech as a primary contributor to the development of the first utility grade variable speed turbines and went on to join GE where he became Chief Engineer specializing in all aspects of wind energy.
Bill's outstanding technical acumen set him among the elite in his field. He had contributed as much to the technical content of the IEC 61400-1 over the 20 + years he had been involved as any other single person. Bill has made many contributions to other standards within TC88 as well as leading the US Mirror committee in their TC88 participation.

Jeroen van Dam:
No matter where Bill made his contributions or when he spoke, people tended to listen and appreciate his wisdom. He was very deserving of recognition for his contributions to TC88 as well as his leadership of the US TC88 Mirror committees. He will be greatly missed by his family and those of us in the renewable energy industry who have known him.

Tim Zgonena:
That is a huge loss! My prayers are with his family and friends.

Jomaa Ben Hassine:
I am still trying to process this sad news as it is hard to imagine meetings without Bill's wisdom, consensus building and guiding interventions. I have worked with him for many years and it is evident he will be sorely missed by us all. I have the deepest respect for him. May his soul be with the angels, peaceful and content for eternity.

Lance Manuel:
This is indeed a shock! I saw Bill in Greenville, SC just two months ago when I was in the area. He gave me a tour around the town, sharing its history with me, and I enjoyed a nice dinner with him. It was a pleasant evening. Bill brought a lot of wisdom and experience to the industry and to the standards world! He will be greatly missed.

Jim Manwell:
This is sad day. Bill was a major contributor to the emergence of modern wind energy at its beginning and stayed with it through its ups and downs right up to the present, when many of the visions of those early days are already a reality and others will be soon.

Kyle Wetzel:
In addition to Bill's great contributions to our industry, I was always impressed by what a gentlemen he was in all his dealings with people. He will be missed. It is a shock, as we were all just corresponding with him a few days ago regarding IEC affairs.

George Kelly:
Bill was truly a pioneer of the wind industry, his career spanning over three decades in the development of renewable energy. I only had the privilege to work with Bill for a few short years, but it was immediately clear that he had earned the respect and trust of all those with whom he worked. As a founding Director of ARESCA, he always advocated for inclusion and consensus, and was never willing to settle for less than the best results. Together, we can honor his memory by continuing the important standardization work that was Bill's passion. Although such work is never truly finished, we share the belief that it is essential to ensure a more sustainable and prosperous world for future generations.

Pouyan Pourbeik:
Unfortunately, I did not have the pleasure and privilege to know Bill well. However, I am saddened by this loss. Please convey my deepest condolences to the family, and assure them of my ardent prayers for the progress of his dearly departed soul – May God bless his soul.

Brian Hill:
Condolences to the family and many friends of Bill Holley. We are thankful for his great contributions to the wind industry during his many years of service.

Mohamad Sultan:
He was a true friend, philosopher and guide. Very sad to lose him so early.

Dick Johnson:
I was very fortunate to meet Bill and get to know him during my stay at US Windpower in Burlington Mass prior to the company move to California to become Kenetech. He was always a truly very knowledgeable proessional with a great sense of humor–a memorable gentleman highly respected by all.

Jos Beurskens:
I was shocked by the sad news of Bill passing away. I know Biil from the time he worked at the Risø Laboratory in Denmark. We met occasionally during the project meetings in the 1990's. The fact that I remember Bill very well reflects that he was a fine person and a good colleague. He contributed very much to the wind industry, both to the R&D and industrial sectors. Please convey my condolences to his family.

Charles Jacquemart:
I have known Bill in multiple IEC TC 88 meetings; he always raised fundamental comments, and at the same time offered excellent solutions; in his manners he was always friendly, polite and fair. He was one of the major contributors to the standards development at the US level and consequently at the international level. We will certainly miss Bill and his contributions in IEC TC 88.

Mike Wöbbeking:
Bill, we will miss you, your brought knowledge, your razor-sharp brain and your great humor. This is a very sad day for wind. RIP!

David Quarton:
I'm shocked and very sorry to hear this sad news. I have many fond memories of working alongside Bill as well as enjoying his good company and great sense of humour. In the early years of modern wind power I came across him mainly at IEA experts meetings but later had more contact through IEC MT1 and occasionally MT3. Bill had a formidable intellect combined with a warm, engaging personality; he'll be sorely missed.

Atsushi Yamaguchi:
I am very surprised and sad to hear the news. I had several discussions in IEC meetings with Bill and I was always impressed by his experience and knowledge in many aspects of wind energy. I really miss him.

Hubert Oing:
My colleagues and I from GE loads&controls team in Berlin are very thankful for all Bill shared with us since 2003: His incredible knowledge, his long experience and his big pool of ideas and solutions. Design reviews or other meeting were very often a mixture of several things: a frightening hour in a good atmosphere (because he might find something which you not had thought of or it might be just wrong :), a lecture, but also an inspiration to think smarter to find a good solution. While being our Chief Consulting Engineer he always treated everyone with respect and patience. He was a role model and a wonderful mentor. We will miss him.

Hiroshi Imamura:
I'm very sorry to hear this sad news. You were one of the greatest teachers in MT1 for me. I will never forget your voice and smile.

Enrique Gómez de las Heras:
I felt so honored and fortunate to have met Bill many times in the IEC MT01 group where we could enjoy his wise opinions and suggestions. His technical knowledge and expertise was outstanding but, above all of this, I will always appreciate his kindness and generosity. He was truly an inspiring person. My deepest condolences to his family and friends.

Scott Larwood:
I remember first meeting Bill Holley for my interview at Kenetech Windpower. You had to wander on a path through stacks of papers and books to sit down. I distinctly remember one pile had the proceedings of the 1994 European Wind Energy Conference (Greece) on top. Later I saw on the office map a room that was labeled "Bill Holley's files." In December 1995 (I think) there was a round of layoffs. I was told by my boss that Bill saved my job. For that I am always thankful. Later in 1996, just before the bankruptcy, Bill was with us in West Texas when we got a speeding ticket on the highway from Van Horn. I cannot remember who was driving, but recall Bill's normal transport was a Vanagon. Ten years later I ran into Bill at AWEA in Pittsburgh and I asked him why he left academia (I was finishing my PhD). He said "there was no money in wind." Well, there still is no money in academia for wind, but we all love wind energy anyways and just can't give it up. Thanks Bill for all you gave to us.

Troels Friis Pedersen:
I was very sad to hear Bill passed away all too early. I first met Bill when he stayed at Risø in the 80'ies. Together we made performance and load tests in the field on a prototype wind turbine with two different measurement systems. Bill controlled an old measurement rag system while I used a new prototype system. Bill succeeded while my measurements failed. We had big problems to interpret some of the loads we measured until we found out that a nearby electric fence interfered with the data transmission system. We had a good laugh on that. I also remember Bill and his lovely wife Laureen made a party where Bill dressed as a wind turbine with nacelle and blades on his hat. We felt like Bill was one of us. In the later years I enjoyed meeting Bill at the IEC standardisation meetings and talk about the old times and the tremendous development in wind energy. He generated deep respect for his technical expertise and substantial contribution to wind energy. I will always remember his gentle laughs and his winning personality.

Bill Lesher:
I was a student of Dr. Holley in 1977. I remember being in his office to get help on a problem. He was thoughtful and calm. And always available to students. I thought about him every once and a while over the years. Great person.





If you would like to share a memory or offer your thoughts about Bill on this website, please e-mail the Secretary.

Email: [email protected]




You can make a donation in memory of Bill by clicking below.